Disc Brake Conversion Kits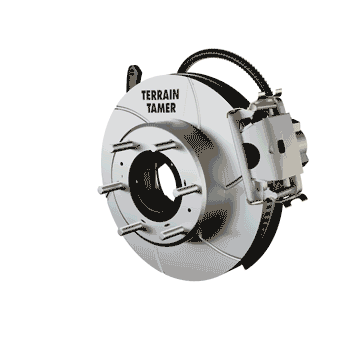 Converts rear drum brake into disc brake system
ADR Compliant
Kevlar Ceramic Brake Pads
Slotted Rotors
29.7% Better Stopping Power
*Please note, the brake pads and rotors used in this conversion are a unique size. They are widely available through the Terrain Tamer network but do not cross over with original parts numbers.
These kits are fully engineered and ADR approved.
They should only be installed by a qualified mechanic and must be checked and signed off by an engineer after installation to meet state regulations.

FORD - Terrain Tamer Parts Suitable for Ford Vehicles
| MAKE | MODEL | YEAR | PART NO. | STORE |
| --- | --- | --- | --- | --- |
| Ranger | PX | 9/2011- | TTBCK003 | BUY NOW |
ISUZU - Terrain Tamer Parts Suitable for Isuzu Vehicles
| MAKE | MODEL | YEAR | PART NO. | STORE |
| --- | --- | --- | --- | --- |
| DMax | TFR85 | 5/2012-6/2020 | TTBCK004 | BUY NOW |
| DMax | TFR86 | 5/2012-6/2020 | TTBCK004 | BUY NOW |
| DMax | TFS85 | 5/2012-6/2020 | TTBCK004 | BUY NOW |
| DMax | TFS86 | 5/2012-6/2020 | TTBCK004 | BUY NOW |
| DMax | TFS40 | 7/2020- | TTBCK004 | BUY NOW |
MAZDA - Terrain Tamer Parts Suitable for Mazda Vehicles
| MAKE | MODEL | YEAR | PART NO. | STORE |
| --- | --- | --- | --- | --- |
| BT50 | UP/UR | 10/2011-7/2020 | TTBCK003 | BUY NOW |
| BT50 | TFS40 | 7/2020- | TTBCK004 | BUY NOW |
MITSUBISHI - Terrain Tamer Parts Suitable for Mitsubishi Vehicles
| MAKE | MODEL | YEAR | PART NO. | STORE |
| --- | --- | --- | --- | --- |
| Triton | MQ/MR | 5/2015- | TTBCK005 | BUY NOW |
NISSAN - Terrain Tamer Parts Suitable for Nissan Vehicles
| MAKE | MODEL | YEAR | PART NO. | STORE |
| --- | --- | --- | --- | --- |
| Navara | D23 NP300 | 2015- | TTBCK007 | BUY NOW |
TOYOTA - Terrain Tamer Parts Suitable for Toyota Vehicles
| MAKE | MODEL | YEAR | PART NO. | STORE |
| --- | --- | --- | --- | --- |
| Hilux | GGN25 | 2/2005-7/2008 | TTBCK008 | BUY NOW |
| Hilux | GGN25 | 8/2008- | TTBCK001 | BUY NOW |
| Hilux | GGN125 | 5/2015- | TTBCK002 | BUY NOW |
| Hilux | GGN125 | 5/2015- | TTBCK002 | BUY NOW |
| Hilux | GUN126 | 5/2015- | TTBCK002 | BUY NOW |
| Hilux | KUN26 | 2/2005-7/2008 | TTBCK008 | BUY NOW |
| Hilux | KUN26 | 8/2008 | TTBCK001 | BUY NOW |