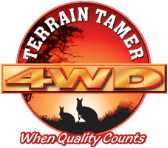 4wd Parts that will get you home
Welcome to Terrain Tamer, the leader in 4x4 parts in Australia and across the globe. With a history dating back to 1969 we continue to deliver on our promise of quality, research and design to give you 4wd spares & parts that are tested in the toughest Australian outback environments.
Find your local stockist
Africa
Canada
Econo Accessories
PK 16.400 côté montagne, Punaauia, Tahiti Tel: 689 583303
Europe
Fiji
Indonesia
Surya Bumi Permata
Blok r1 no18 Ruko, Bumi Tangerang, Banten 15157, Indonesia Tel: 62217303888
Middle East
New Caledonia
New Zealand
Papua New Guinea
Philippines
Zache Autoinnovations Corporation
394 Banawe Street, Quezon City, Philippines 1100
South America
Why Choose Terrain Tamer 4x4 Parts?
Terrain Tamer 4WD Parts have been designed, manufactured and tested to withstand some of the harshest conditions Australia has to offer. When you purchase a Terrain Tamer part, you can be confident that it will stand up to whatever you throw at it. In addition to our quality products, we also offer excellent customer service. Our company is over 50 years old, and many of our staff have worked with us for over 25 years, meaning our team members are some of the most experienced in the industry. They are passionate about providing the best advice on 4x4 parts and are always happy to help with any enquiries you may have. Read More
We Design and Manufacture Parts & Solutions for 4WD Vehicles
There are many reasons why 4WDrivers choose Terrain Tamer for their vehicles in Australia, and around the world.
One of those reasons is that we design and manufacture solutions to common problems. Our Parabolic Springs, Heavy Duty Wheel Bearings, Fortified Clutch, Heavy Duty Clutch Kits, & Brake Upgrade Products have all been designed to meet a need that our customers had. We recently created the Airbox Filter Insert kits to combat the issue of engine dusting in specific Landcruiser models.
What 4x4 Vehicle Makes and Models do Terrain Tamer design parts for?
Terrain Tamer specialize in 4x4 parts for a wide and growing range of vehicles, including (but not limited to) Toyota Landcruiser and Hilux, Ford Ranger, Mazda BT50 and Nissan Patrol. We have parts for many hard to find older models, as well as newly released vehicles.
We Offer the Very Best 4x4 Vehicle Upgrades in Australia
Terrain Tamer has the very best 4x4 spare parts and upgrade kits in Australia. If you need a brake upgrade kit, GVM Upgrades or an entire 4x4 suspension kit, we have you covered.
We also offer a huge range of 4x4 performance parts for those who want to take their 4WD to the next level. No matter what your 4x4 needs are, Terrain Tamer has the parts needed to keep your vehicle running and get the job done right.
Where is Terrain Tamer Located?
Terrain Tamer has 17 retail stores internationally (including 10 in Australia), as well as over 50 stockists, who together, distribute 4x4 spare parts to over 80 countries around the world.
If you're not sure which part you need for your 4WD, our team of experts is only a phone call away, and can provide expert advice on the best products for your vehicle and budget. Read Less