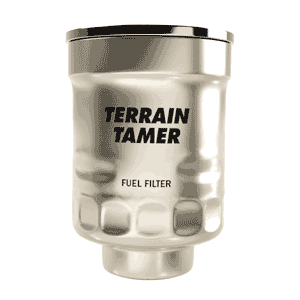 OEM standard End Plate thickness ensure a burst of strength — five times greater than most engine oil operating pressures after the oil reaches operating temperatures.
Anti drain-back valve assures no dry starts, reduce engine wear. The Anti drain-back valve prevents oil from draining out of the filter inlet holes when the engine is shut off.
Gasket - provides exterior seal between the filter and engine at the engine-mounting surface. O-Ring Gasket is made of top quality rubber with heat resistant feature, which prevent leakage.
ISO9000, TS16949 and JIS qualified Filter Media.
High temperature adhesive seals — hold paper media in place ensuring dependable filtration of oil flowing through the filter.
Manufacturer Warranty.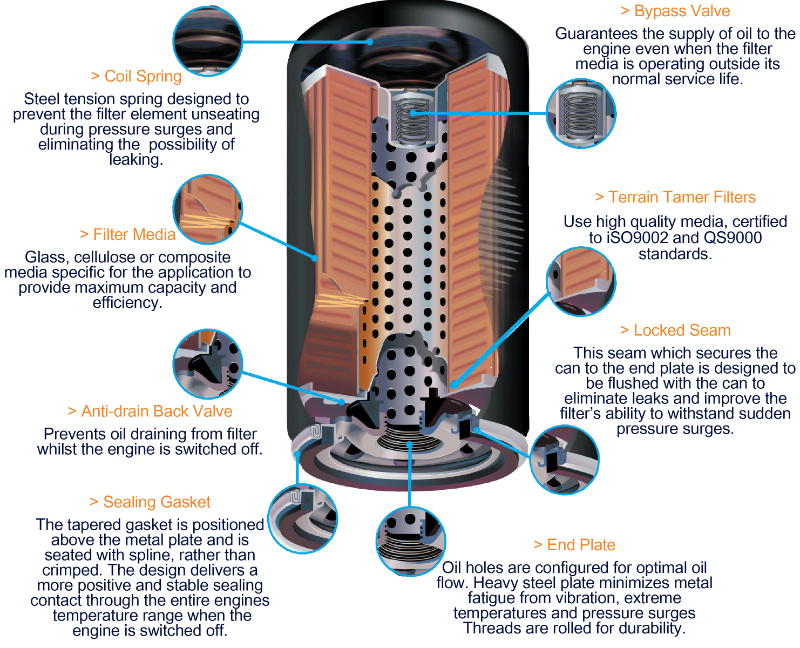 Terrain Tamer 4WD Filter Kits PDF Get a Quote
FAQs About Nissan Navara Fuel Filters
Routine replacement of fuel filters for Nissan Navara vehicles is recommended every 30,000 to 40,000 kilometres as per your scheduled servicing. However, if you're an avid 4x4 adventurer, than you should have your fuel filter replaced at least every 20,000km.
Nissan Navara fuel filters work by trapping contaminants in the fuel so they can't reach the engine. This helps protect it from damage due to these harmful particles and ensures that your 4x4's fuel system runs smoothly and reliably. A a clogged fuel filter can lead to fuel starvation, causing engine damage over time.
It's not advisable. Nissan Navara fuel filters are designed for one-time use, and attempting to clean and reuse them may compromise their effectiveness.
Popular Related Searches
---
NISSAN - Terrain Tamer Fuel Filters Suitable for Nissan Navara Vehicles
| MAKE | MODEL | YEAR | ENGINE | CAPACITY | FUEL | FUEL | STORE |
| --- | --- | --- | --- | --- | --- | --- | --- |
| Navara | D21 | 1986-1987 | SD25 | 2.5L | Diesel | TTF-602M | BUY NOW |
| Navara | D21 | 1988-1992 | TD25 | 2.5L | Diesel | TTF-328 | BUY NOW |
| Navara | D21 | 1988-1992 | TD27 | 2.7L | Diesel | TTF-328 | BUY NOW |
| Navara | D21 | 6/1992-2/1997 | TD27 | 2.7L | Diesel | TTF-328 | BUY NOW |
| Navara | D22 | 31997-2005 | TD27 | 2.7L | Diesel | TTF-328 | BUY NOW |
| Navara | D22 | 3/1997-12/2001 | QD32 | 3.2L | Diesel | TTF-328 | BUY NOW |
| Navara | D22 | 12/2001-2005 | ZD30DT | 3.0L Turbo | Diesel | TTF-328 | BUY NOW |
| Navara | D22 | 2/2008- | YD25DT | 2.5L Turbo | Diesel | TTF-328 | BUY NOW |
| Navara | D40 Spain Built | 6/2006- | YD25DT | 2.5L Turbo | Diesel | TTF-637 Canister | BUY NOW |
| Navara | D40 Thailand Built | 6/2006- | YD25DT | 2.5L Turbo | Diesel | TTF-328 | BUY NOW |