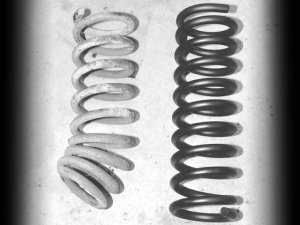 Tony Knowles (Hamilton, VIC)
G'day Allan, Last week I had my Navara loaded to the hilt with a mate's bricklaying gear. The rear suspension was sagged almost to the bumpstops and the front end was raised up quite a bit. As I was driving it like this I noticed a steering wobble that I put down to the castor angle being affected due to the weight over the rear end.
The problem is, once I had the gear uploaded and the suspension had returned to its normal height, the wobble was still there! I had the gear in the back for about 600kms of mainly highway driving but I was expecting the shimmy to be gone after I'd emptied the tray.
The wheel bearings seem tight and there's nothing obviously wrong with the steering arms. I rechecked my tyres' pressures and all were within 2psi so I can't see that being the problem. Is there some way I could have knocked my front end out of alignment?
Allan
Well Tony, I reckon you may have knocked the rear springs out of alignment! Or at least sagged them. Failing that, I'd approach the problem as though it isn't connected with the overloading.
The amazing amount of coincidences in this industry is incredible, and you can have difficulty in troubleshooting if you just link the two events together. It may well be that they are not connected. Just treat it as an investigation into the wheel wobble, it always works better for me that way.