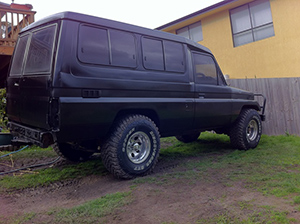 Rockin' Rod (Wauchope, NSW)
G'day Allan, I have a question regarding vehicle leans. I have a modified 75 Series Troopy and when parked on a perfectly flat surface, the truck has a definite lean to the passenger side. I've had this problem for a while and even after fitting new springs, it still persists.
Do you have any idea what could be causing this?
Allan
G'day Rockin' Rod, on your perfectly flat surface, jack up the lower side front until it is level and re-measure the rear.
If that has rectified the total vehicle height, you could try swapping the front springs side to side. If lifting the front doesn't correct the sag, then try lifting it again at the rear lower side.
The rule is that whatever action fixes the vehicle's total height problem, the problem is with the springs closest to the jacking point.
Hope that helps mate.