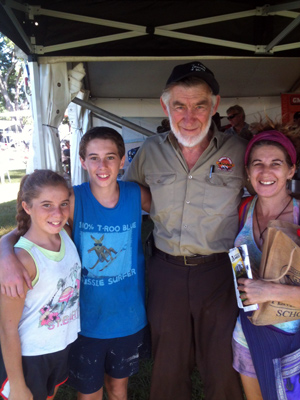 Hi,
I would just like to pass on a very BIG Thank You to Allan Gray who, while attending the 4WD show in Darwin, took time out to have a lengthy chat with my son, Brayden (14yo) about his YN65 Hilux rebuild.
Allan showed genuine interest and engaged my 13yo daughter as well, giving them both a signed Terrain Tamer hat and an Ask Allan DVD. I am a subscriber to 4WD Action and my children have grown up with 4WD's and the Ask Allan segments, which they love.
I realise Allan's attendance at the show is to engage with people, but he certainly has the capacity to make each individual feel as if they are very special also, very much a skill in itself.
Once again, thank you very, very much Allan, your photo with my children and partner will take pride of place.
I also purchased the Pat Callinan magazine and DVD and it was terrific to see the FJ45V project doing its thing up in Woods Point/Jamieson.
I will continue to purchase Terrain Tamer parts for my 100 series, not just because of this pleasant experience, but because Terrain Tamer parts have proven themselves to be quality parts at a very reasonable cost that last- thus keeping me out on the tracks.
Cheers, Andy Blaney