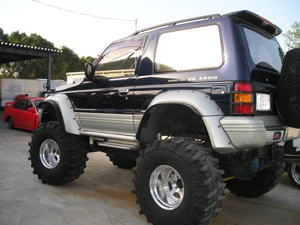 Luke Bray (Rockhampton, Qld)
Hi Allan, I bought my 1st 4WD in October 2009, it's a SWB Pajero. My dad owns a Pajero and I knew it would be a good first 4WD not outlaying a great deal, but still plenty of power to take it where I wanted to go to learn how to 4WD. Living in Rockhampton there are some little tracks that have easy and hard parts to them. For weekends away, Byfield State Forest and Five Rocks are great locations to go with family and friends.
I haven't done too much to my Paj apart from fit 31in Maxxis Bighorns, a UHF, roof racks, a set of drawers and a fold down shelf on the back door that I saw on one of the customs featured. I have plans to make some rock sliders and maybe a tube bar for the front in the future.
Lately, I have been having some problems when I engage 4WD. By process of elimination and the help of my mates at the local suspension workshop we worked out that the passenger side CV shaft, thrust washer and wheel bearings were very much stuffed and the front drive shaft uni-joints were shot as well.
After a few hundred dollars, and a few hours after work, I replaced the offending parts plus I have also installed new AVM hubs. However, when I select 4WD, I still get a large clunking noise. It sounds like the driveshaft but it's too loud and inconsistent to be the driveshaft. As I've already replaced a heap of parts, I'm not so sure on what it could still be.
I pulled the front cover off the front diff and inspected it to make sure I hadn't stripped any teeth off my diff gears and they still seem to be in perfect order. So I'm stuck on what the noise is! My 4WDing dreams have come to a halt for the time being until I can find the problem.
Allan
Well Luke, I still think that the tailshaft can make awful large clunking noises. If I were you I would jack the vehicle up from the body until the wheels are off the ground, then run it and see of the noise is any worse. I suspect that the front tailshaft is binding up, which happens when you have a bit of a lift kit installed.
I think that the first thing you'll find if you pull the tailshaft out is wear marks and witness marks where the round tailshaft yoke that holds the cross-yoke is actually touching on the shaft part itself. We have been known to grind a little bit away from that because sometimes grinding a very small amount just relieves it, not around the cross-yoke, but the other part that is hitting the tailshaft itself.
Grind that out with a little high-speed grinder. You might find that taking off as little as 0.5mm might make all the difference in the world. I'm pretty sure that's what it is, if its worse when it's jacked up, it puts the tailshaft under a greater angle and makes that knocking noise worse. I think you'll find that's what the problem is, good luck with that Luke.