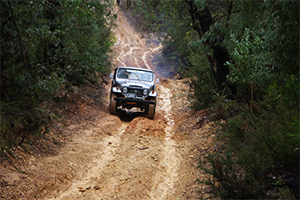 Jamie Phelps (Cunnamulla, QLD)
Hi Allan, my uncle has had an old shorty 40 on his property forever and he said I could have it if I want, so I'm after some advice. I'm 17 years old and I've always wanted to build up an old 'Yota. I thought I'd ask you whether it was worth it seeing how you're building one on the 4WD Action DVDs and you obviously know what you're talking about.
I've never built a vehicle before so I'm not sure if it's a good idea to start out on one that needs so much work – she's pretty rusty. My dad says he'll help me, but only if I'm going to finish what I start.
Do you think I should do it or not?
Allan
Jamie, yes, go for it! Do whatever you have to do, you'll learn so much building this up. I suppose what you have to think about is what you're going to use it for. I don't know if you're going to get it going for running around the paddock, or if you want it for bush bashing or whether you want to put it on the road.
Once you know which of those three you're mainly going to be using it for, you can make an informed decision on how much work you'll have to put in it and whether you'll need a roadworthy in your state or not.
Certainly I think it's worth it. The rust is the biggest thing, but one of the best things about those models is that they remain unchanged for probably 15 years so parts are easy to get a hold of.
Write to me again if you think I can help further (and I'd love to see some pictures of it). Obviously your dad thinks it can be got right, but how much work you'll have to put in will depend on where you're going to be using it. If I can help you any more, get back to us Jamie. Thanks mate.